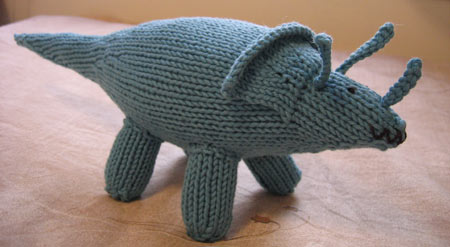 Ah, I know all to well having 2 boys of my own that there is a desperate shortage of cool knitting projects for people who are NOT, I repeat NOT, into dolls. Download this lovely and (yey) free pattern available at xtreme knitting.
Knit 3 ferocious little dinosaurs with all those lovely bits of yarn you have stashed away.
This little triceratops was knit by Grumperina. They each take one ball of specified yarn so they are a great one ball project a good way make use of all those bits of yarn that are too good to throw away. Grrrrrrr!